Kyrgios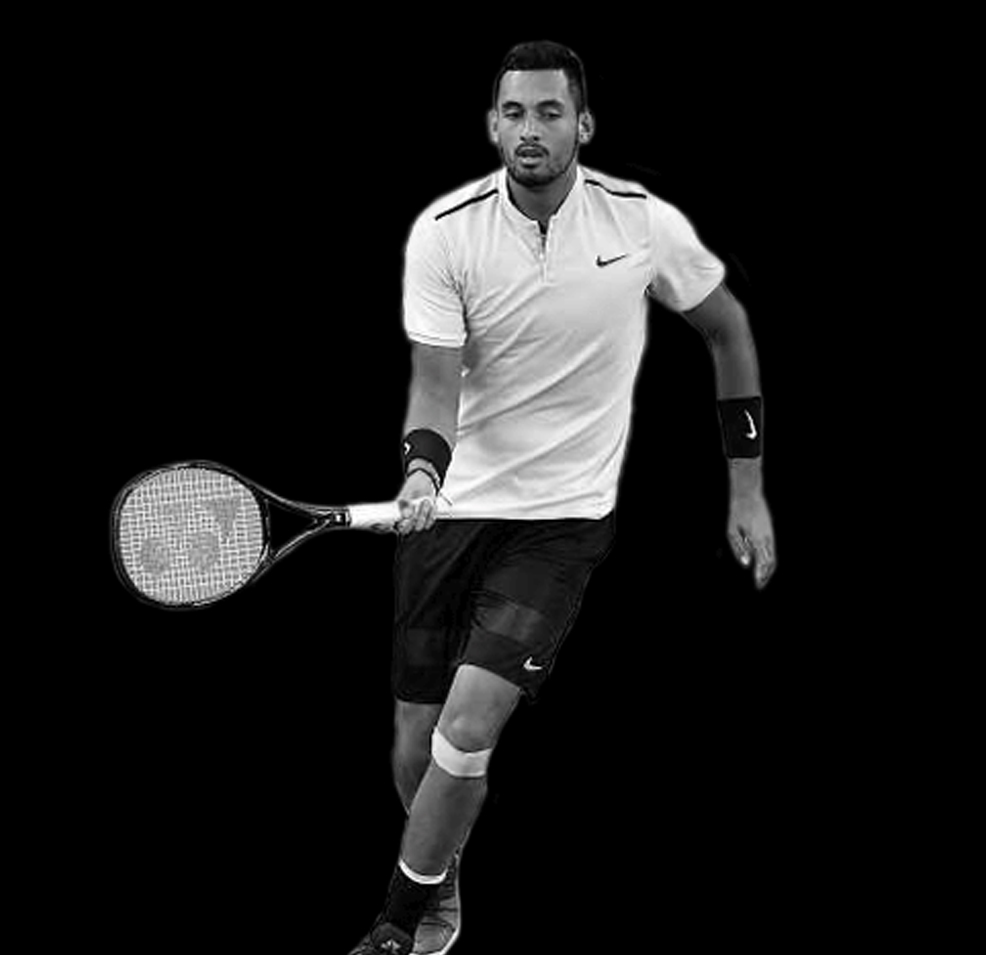 Right-handed, two-handed backhand
Highest ATP Singles ranking:
13
Career prize money:
$5,514,920
Since winning the Junior Australian Open in 2013, Nick Kyrgios has stunned the world with his progress and talent on court. At just 19 years of age, the Canberra native made a place for himself on the prestigious list of the planet's top 50 players after reaching the quarter-finals of Wimbledon, defeating Rafael Nadal on the way. In the last two years, Kyrgios has lifted three trophies, in Marseille, Atlanta and Tokyo and reached another three finals, in Estoril, Cincinnati and Beijing, guaranteeing himself a place among the elite of world tennis. His power, his talent and his charisma have earned him an immediate connection with the fans and in a 10-point tiebreak format he could prove unbeatable. The word "fear" is not in his vocabulary, something that he has demonstrated on numerous occasions throughout his short but successful career: he came out on top of his first clash with Roger Federer, Rafa Nadal and Novak Djokovic. Now his goal is to win his first Tie Break Tens title on his debut.
Career Tie Break Win/Loss
69-46
Career Percentage Tie Breaks Won:
60%
UNPREDICTABLE
The Australian player is able to constantly surprise his opponents thanks to the infinite variety of shots in his repertoire. Although he has a big backhand, he is also capable of generating plenty of power on his forehand, where he can produce both winners that kiss the baseline and drop shots that his opponents have no hope of reaching. Add to that a frighteningly fast serve and you have a cocktail called Nick Kyrgios.
FEARLESS
His leadership qualities on the big stage are unquestionable. He grows in stature against the biggest opponents and fears nobody. He has already shown what he is capable of in a sudden-death situation, managing to win two tiebreaks against Nadal to defeat him at Wimbledon in 2015, just two months after seeing off Federer in Madrid (6-7 (2), 7-6 (5), 7-6 (12). In 2017 he also defeated Djokovic twice (at Indian Wells and in Acapulco) beating him in both tiebreaks they played. Nick Kyrgios does not crumble under pressure.
SHOWMAN
Kyrgios is synonymous with spectacle. There is nobody on tour with the capability of getting the fans off their seats like the player from Canberra. Such is his perfection of the "Tweener" that the magical shot looks almost ordinary in his hands. If you rub the tennis lamp, the Australian genie always appears to produce the impossible shot. His tennis is a talent waiting to boil over and he is always looking to draw applause from the crowd.