Tie Break Tens and Helium9 Games launch tennis mobile game, Tennis Blitz by Tie Break Tens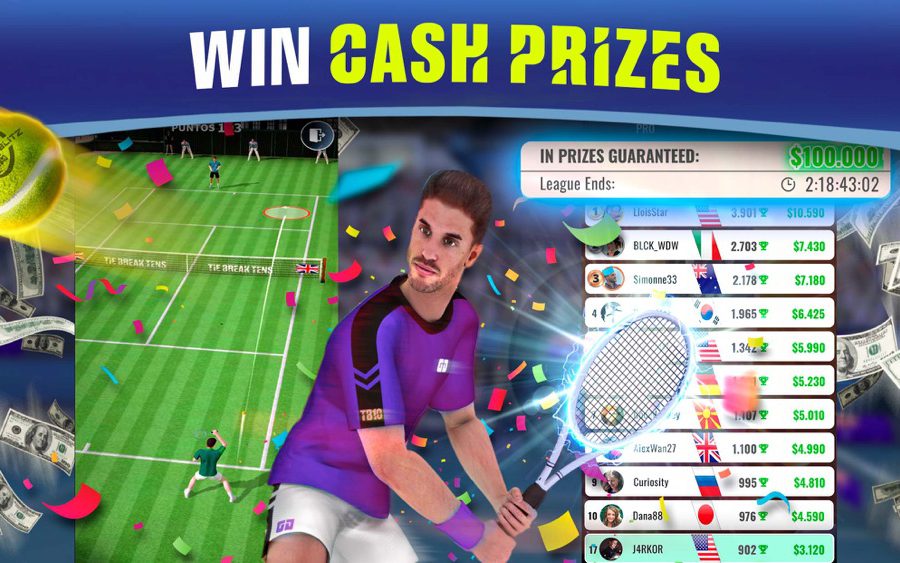 January 14, 2022
3 minutes
Tie Break Tens, Helium9 Games and eGoGames are delighted to announce that Tennis Blitz by Tie Break Tens is now officially released in the Apple App Store and eGoGames website for Android users.
Tennis Blitz is an eSports tennis game where users can win real money prizes competing on their mobile device using the short form Tie Break Tens format. Early reviews of the game have seen players praising the realistic, fun and rewarding mobile tennis experience. This is a game where players can challenge other players around the world or invite friends to take part.
Tennis Blitz is 100% skill based and players can choose their favourite tennis surface: grass, clay or hard court; making the game the most adaptable tennis game on the market. Tie Break Tens (TB10) is the quick-fire format that Tennis Blitz uses with players competing against each other in a winner take all match tie-break to 10.
Thanks to eGoGames' technology, Tennis Blitz allows the user to enjoy a wide variety of competitions where they can win cash prizes or real life rewards such as:
– Head to Head: The game pairs the user against someone with the same skill level making it fun and fair
– Bracket Tournaments: Users can compete to make it to the top
– Live events: Participate in live events whenever the user would like to and win fantasticprizes
– Add any user as a friend and challenge them directly. The winner will claim a fantastic Tennis Blitz prize
– The Tennis Blitz league will give all eGoGames users the option to win huge prizes as a way to reward consistency. Each game played gives the possibility of winning trophies which helps the player go up in the ranking just like a real-life tennis league. Tennis Blitz is global and is the complete competition platform featuring leaderboards, eCash, free virtual currency prizes and trophies.
Iskander Umarov, Founder of Helium9 Games said: "We are delighted to launch this new tennis esports game and look forward to seeing how popular it proves to be. We believe there is a market for a tennis game that enables players to rapidly progress and win cash prizes. Offering this incentive should see the game explode into the market. We are pleased to be working with Tie Break Tens, as we believe short format tennis is fun, quick and engaging for esports fans."

Michael Stafford, Head of Business Development at Tie Break Tens said "Tennis Blitz is one of the most realistic tennis esports games available to play in the market and we are delighted that TB10 is incorporated into this game, giving players that TB10 experience where every point counts. We look forward to seeing how the game develops and seeing how popular the leaderboards and prizes prove to be."

Alejandro Sáez, CEO of eGoGames said: "We are thrilled to take this amazing tennis game to the next level through eSports competitions. The 3D graphics, 100% skill-based system and matchups together with cash prizes, creates a super realistic atmosphere for players all over the world to enjoy and be part of an amazing community."
To play Tennis Blitz by Tie Break Tens please visit the App Store or eGoGames website to download.
Please note that cash tournaments are available in the US everywhere except: AZ, AR, CT, DE, FL, IL, LA, MD, MT, SC, SD, and TN but users can still play via a virtual currency
experience.