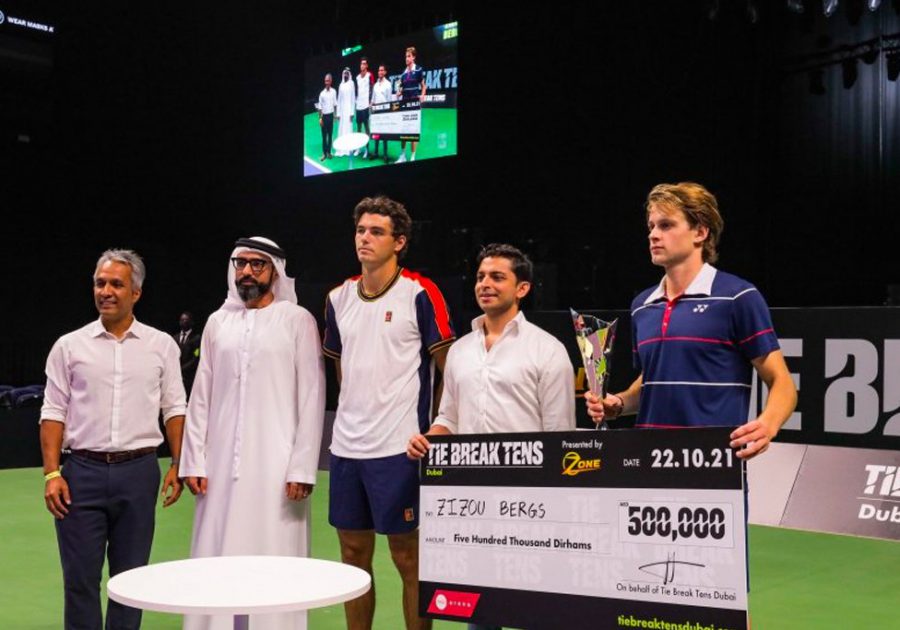 Congratulations Zizou Bergs
22/10/2021
Zizou Bergs Triumphs At Inaugural Tie Break Tens Dubai Presented by Zone.
Zizou Bergs overcomes Taylor Fritz in nail-biting final
Eight top tennis players competed at Coca-Cola Arena for AED 500,000 winner-takes-all prize
TB10s Dubai Grassroots Junior Tournament: Rosaleen Ali Yousef takes girls' title and Raed Rizvi becomes boys' champion
Zizou Bergs triumphed at the inaugural Tie Break Tens Dubai Presented by Zone tennis tournament on Friday evening (22nd October), with an amazing victory over World No. 30 Taylor Fritz. In front of an enthusiastic crowd at the Coca-Cola Arena in Dubai, the 22-year-old Belgian was neck and neck with Taylor on almost every point, before he returned a lob with a smash to win him the tournament, finishing with 11 points to 9, and securing him the championship trophy and AED 500,000 prize.
The culmination of an action-packed tournament saw wild card Bergs power his way through against Dustin 'Dreddie' Brown in his first match and then World No. 19 Gaël Monfils in the 'semi-finals'. Indian Davis Cup representative, Ramkumar Ramanathan was knocked out by Dan Evans in the first round, who was in turn beaten by Fritz.
"It's actually unbelievable," said Bergs. "I didn't know much about Tie Break Tens – we're used to playing long matches, which can be a little tense sometimes at the end but this is tense all the time! It's fantastic for the crowds and a great part of the process of becoming a great tennis player as well," said Zizou about the Tie Break Tens format.
The first Tie Break Tens tournament to visit the Middle East was organised with the support of Dubai Sports Council and title sponsor, Zone, an online E-sports and crypto currency platform. Tournament Director, Jimmy Poon, commented:
"These things don't come about without a lot of hard work and I'd like to thank our partners, Dubai Sports Council, our title sponsor – Zone, Coca-Cola Arena and all the players that took time out of their schedule along with everyone that played a part in making this happen. Once again Dubai has hosted tennis of the very highest quality, and Zizou Bergs proved to be a worthy winner.

The excitement generated by the fast-paced Tie Break Tens format has created a real buzz here tonight, and is something everyone is looking forward to building on in the future."
Taking place alongside the main event, the Tie Break Tens Dubai Grassroots Junior Tournament culminated in an equally exciting display of high-quality tennis from some of the UAE's own young talent, following several weeks of qualifying. In the U18 boys' finals, Raed Rizvi, 14, beat 15-year-old Henri Mikael 12-10 to become champion. In the girls' U18 tournament, Rosaleen Ali Yousef, 16, emerged victorious 10-8 against Coumba Niangadou, 17.
The Tie Break Tens format is the only officially recognised short form of tennis, and is a quick-fire version of the sport that anyone can play and is thrilling to watch. Unlike conventional tennis, Tie Break Tens matches are comprised solely of tie breaks – no games, no sets, just exhilarating ten-point breakers in which every point counts.
Zizou Bergs
Results
QUARTER FINALS
SEMI FINALS
FINAL
QUARTER FINALS
SEMI FINALS
FINAL
Zizou Bergs
11