Frequently Asked Questions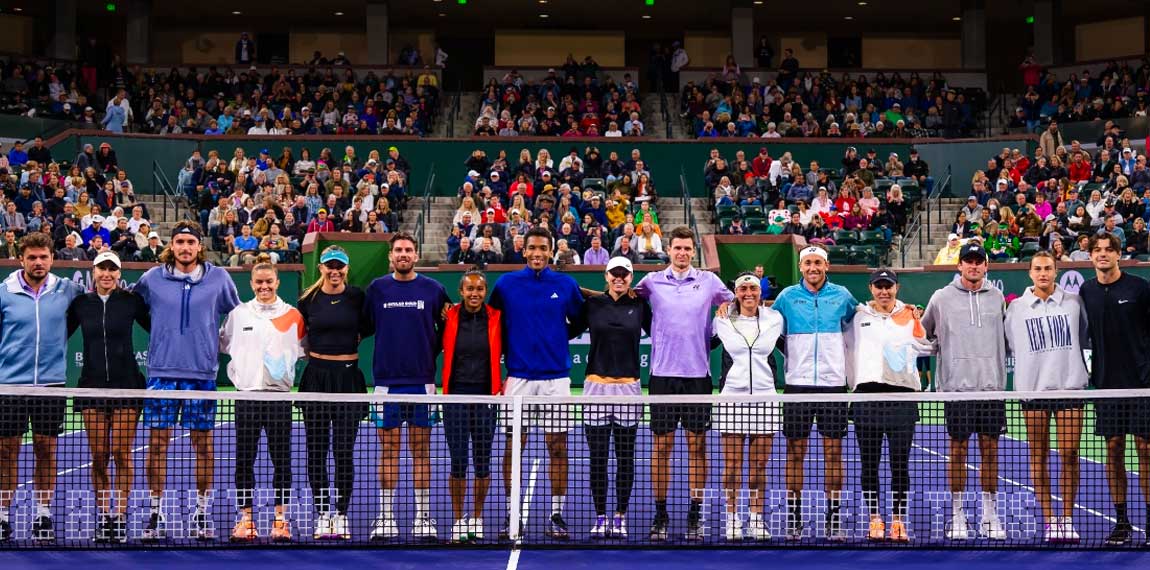 What is Tie Break Tens?
Tie Break Tens is the quick-fire version of tennis that anyone can play. Unlike conventional tennis matches, the Tie Break Tens format consist solely of tie-breaks – no games, no sets, just exhilarating first-to-ten-point clashes in which every point counts. The exciting and unpredictable nature of the game, means it is a great way to enjoy a lot of tennis in a short amount of time.
At Tie Break Tens' international competitions, world-class players compete for life-changing, winner-takes-all prizes at prestigious venues around the globe. The huge prize money at stake, combined with the nail-biting suspense of the format, creates a thrilling evening of tennis. Champions are crowned in a single 2.5 hour session, with the winners taking home $250,000 in prize money.
There have been six Tie Break Tens tournaments to date – in London, Vienna, Madrid (2) & Melbourne and New York. Details of future tournaments taking place in 2018 and 2019 will be announced shortly.
Who competes in Tie Break Tens' international tournaments?
A host of stars have already taken part in Tie Break Tens including Rafael Nadal, Novak Djokovic, Serena and Venus Williams, Andy Murray, Coco Vandewhghe, Elina Svitollina, Stan Wawrinka, Dominic Thiem, Tomas Berdych, Nick Kyrgios, Jo-Wilfried Tsonga, Maria Sharapova, Simona Halep, Johanna Konta, Marion Bartoli and Daniela Hantuchová,
Players are invited to participate based on a whole host of factors. At each tournament, at least one player is a Wild Card entry, a player who may be thought to be an "underdog".
How do I buy tickets for Tie Break Tens tournaments?
Tickets for forthcoming Tie Break tournaments will go on sale once details including date, time and venue have been announced.
Can I hold a Tie Break Tens tournament?
Of course! All you need to do is sign up to TB10 Play, where you can register your Club or sign up as an individual: www.tiebreaktens.com/tb10play
To run your own Tournament, you need to register your club and purchase a personalised TB10 Play Grassroots Toolkit.

Costing £45, the Toolkit includes- full rules and tournament guidelines, personalised scorecards, order of play sheets, certificates and a marketing items and event ideas to help you run your Tournament.

How do you play a Tie Break Tens match?
Check out our video here.
Challenge your friends to a head-to-head an upload your scores, photos and videos on the TB10 Play page. Firstly, you will need to sign up to a TB10 Play Account here
By doing so  you will also receive access to a whole host of exclusive content!
What is TB10 Challenger?
The TB10 Challenger Series is a nationwide set of tournaments run throughout the summer by Tie Break Tens, in partnership with Wilson. 32 tennis clubs which have been selected to participate with entrance aged between 14 and 15 years old. The tournaments will culminate in a final to be held on Saturday 3rd November 2018.  The Challenger Series will feature one tournament at each club, based on LTA ratings of up to 6.2.   The Winner and runner up from each club tournament, will go through to the final and the overall winner will receive a year's sponsorship from Wilson.  In addition to this, each club will receive a Wilson package which includes: a draw-string bag, towel, wristbands, a cap/visor, grips and shock absorber for each club coach to distribute as they see fit.
For taking part in the Challenger series each club will receive:

• A personalised TB10 Tournament Toolkit
• A TB10 winner's prize package including exclusive TB10/Wilson goodies
• Support and promotion via TB10 and Wilson UK social media pages

5 randomly selected TB10 Challenger clubs will also have a surprise visit and a tennis masterclass from one of the TB10 ambassadors who include:  Kyle Edmund, Feliciano Lopez, Jamie Delgado Elitsa Kostova and Daniil Medvedev.
How long does a Tie Break Tens match last?
Each match usually takes around 10-15 minutes – but some tie breaks last a lot longer. (The longest tie-break in history lasted 70 points.)
Where can I get hold of Tie Break Tens merchandise?
We have an online shop full of exciting Tie Break Tens branded products including hats and visors, T-shirts and other accessories.
Where have previous TB10 Tournaments been held and who won them?
The opening Tie Break Tens of the 2018 Series took place on January 10 at the Margaret Court Arena in Melbourne. The second Tie Break Tens of 2018 took place at the world-famous Madison Square Gardens in New York on March 5.
Tie Break Tens has staged six international tournaments to date:
London – December 2015 –  WINNER- Kyle Edmund
Vienna– October 2016 – WINNER- Dominic Thiem
Madrid (Male & Female) – May 2017 WINNERS- Grigor Dimitrov, Simona Halep
Melbourne– January 2018 – WINNER Tomas Berdych
New York– March 2018- WINNER Elina Svitolina
What's been the longest tie-break in history?
In January 2013, at the $10,000 Men's Futures tournament qualifications at Plantation, Florida, Benjamin Balleret and Guillaume Couillard had a 70-point tiebreak in the first set. The final score was 7–6(36–34), 6–1 to Balleret. Although the match was played without any chair umpire or line judges, the score has been verified by both the ITF and ATP. Both players were part of the Monaco Davis Cup team.