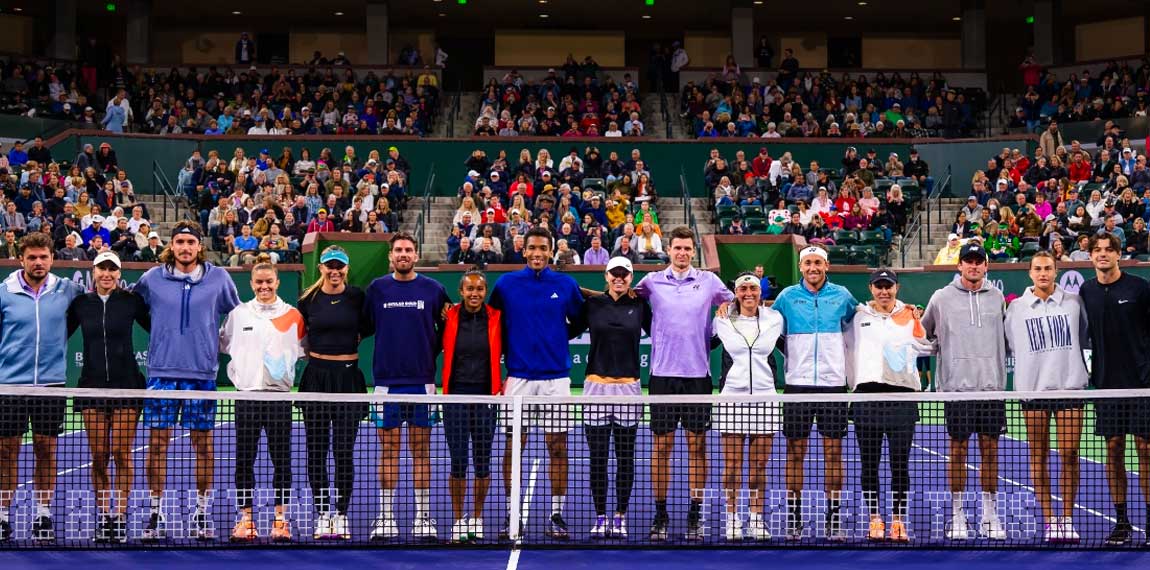 The very first point…
The first Tie Break Tens took place in London in December 2015. Among those competing at this star-studded inaugural tournament were Andy Murray, John McEnroe, David Ferrer and Tim Henman. In a gripping final, rising star Kyle Edmund beat top-seeded Murray to win $250,000 – more money than the young British pro had won all year. Edmund was just 20 at the time but impressed all with his power-hitting and huge forehands.
A host of stars attended the second Tie Break Tens tournament in Vienna in October 2016 including Goran Ivansevic, Jo-Wilfried Tsonga and Andy Murray. Murray made it to the Finals once again but lost out to Austrian pro Dominic Thiem who was competing on home turf. Thiem won the match 10-5 and was delighted with his $250,000 prize and Jeff Koon-designed iconic balloon dog trophy.
The third Tie Break Tens was held in Madrid in May 2017 year in partnership with the Mutua Charity against Domestic Violence – and included a women's tournament for the first time. Eight world-class female players joined the line-up for a thrilling day of tennis on the clay courts of the Caja Magica stadium. The Madrid tournament also saw the launch of a new knockout format with fans treated to 14 matches in total.
Among the stars taking part in Madrid were Maria Sharapova, Johanna Konta, Tomas Berdych, Milos Raonic and Kei Nishikori. A total of $500,000 in prize money was up for grabs along with the coveted Tie Break Tens champions' trophies designed by Jeff Koons.
In the women's final, Svetlana Kuznetsova from Russia faced Romania's Simona Halep – with Halep winning 10-6. In the men's final, home favourite Feliciano Lopez was up against Grigor Dimitrov from Bulgaria. Lopez was on form and had the crowd solidly behind him, but Dimitrov's exceptional Aces were too hard to beat. Dimitrov won the match 10-7. Dimitrov and Halep both won $250,000 before each generously donated $50,000 to the Mutua Charity to support victims of domestic violence.
The fourth Tie Break Tens – and the first of 2018 – took place at the Margaret Court Arena in Melbourne on January 10, just before the start of the Australian Open. Tomas Berdych won the winner-take-all prize of $250,000 prize after a thrilling night of tennis which also involved top stars Dominic Thiem, Novak Djokovic, Lleyton Hewitt and Milos Raonic. Berdych, from the Czech Republic beat Nick Kyrgios and Milos Raonic en route to a gripping final against Rafa Nadal which he won 10-5.

The most recent tournament at Madison Square Garden in New York marked the first time Tie Break Tens has been played in the US. On 5 March 2018, Elina Svitolina defeated Shuai Zhang, walking away with the prize of $250,000 after a gripping night of tennis. It also marked the return of tennis legend Serena Williams, who took on her first singles event since becoming a mother. Other stars on the night included Marion Bartoli, Daniela Hantuchová, and Sorana Cirstea. Ukrainian Svitolina fought hard to beat Venus Williams and US favourite Coco Vandeweghe en route to a thrilling final against Zhang, which she won 10-3.